HOUSE with FIVE LETTING FLATS

in addition to the
Self - Contained Residence
on the Ground Floor.

***************************************************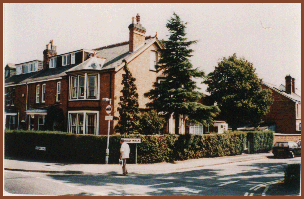 Click picture, or these words, for a bigger picture of the premises
***************************************************
9 BROAD WALK
STRATFORD - upon - AVON
WARWICKSHIRE
CV37 6HS
Price: over 200,000 FREEHOLD with vacant possession.
Location: on a corner and faces all traffic coming into town on the main road from the Broadway, Evesham, and the M5 side of town. There is parking for vehicles off that main road.
The premises are within walking distance of principal attractions in the town, and is in an area of small hotels and Bed & Breakfast establishments.
Prospects: In the past, planning permission has been granted to convert the property into a hotel,
but this has since expired; it should be possible to get planning permission for fresh plans.
Current Situation: Ready to be redeveloped to something better than its former glory and limited
only by the purchaser's imagination and planning permission.
Click on these words for page 2

Click on these words for page 3
---
Interested?
Click on these words for Contact
Or Click on the following to E-Mail:
jedyK@hotmail.com or jk808@gre.ac.uk



---
<!House of Letting Flats in Shakespeare's town - page 2> <! ---------------------------------------------------->

page 2

Click on these words to go BACK to the TOP of the PREVIOUS page

Click on these words to go to the BACK page

&nbsp

In the HEART of this island, this England - in Shakespeare country

Stratford-upon-Avon - historic market town, art and cultural centre, internationally famous for William Shakespeare , whom has been hailed as the World's greatest playwright, writer, and Bard; and where he was born, went to school (King Edward VI Grammar School for Boys - this still exists and takes pupils); and his plays are performed now by the internationally famous R S C ( Royal Shakespeare Company ) at the Theatre, near the river Avon. Incidentally, National Lottery money has been granted to develop this further, resurrecting some of the original old theatre.
Not surprisingly, Stratford attracts tourists from all over the world;
it is the main tourist attraction outside London.

Connections and Environment

Access to the rest of the Midlands industrial/commercial complex, the North, London, and the South East, is accelerated by the M40 motorway, which gives access to the M5 and M6, and runs from Birmingham to London joining the M42, Birmingham ring-road motorway, near Warwick, about 5 miles from Stratford.

<! A TABLE ------------------------------------------- >
Distances from Stratford to the principal attractions below

miles

Birmingham, the ICC (International Convention Centre)
and the National Indoor Arena (international sports Centre)
25
Birmingham International railway station, Airport (at Elmdon)
and the N E C (National Exhibition Centre)
23
Broadway & the Cotswolds
15
Coventry and its airport (at Baginton)
18
Evesham
14
Kenilworth, its castle, and the National Agricultural Centre (at Stoneleigh)
15
Leamington Spa
12
Warwick & it s castle
10
There are train services from Stratford to Birmingham, Leamington, Coventry, Oxford, and London.

There is also a canal.

WHAT IS FOR SALE


Outside the Property

Small mature front and side gardens
Car Park - situated in the forecourt.
Large Garage - situated at the back, and could be used as a workshop.

The Property
Semi-detached, having three floors, constructed of facing brickwork; with a slated roof and gabled side elevation, bay windows to both front and side elevations.

The Cellar - could be used as a kitchen for a hotel.
---
<!House of Letting Flats in Shakespeare's town - page 3> <! ---------------------------------------------------->

page 3

Click on these words to go BACK to the TOP of the PREVIOUS page

Click on these words to go BACK to the FRONT page
The Ground Floor
Hall Entrance - having a Minton tiled floor, Shower room, and separate W. C. off.
L-shaped Dining/Sitting room - 20' 0" x 31' 0" (maximum), providing access to the cellar.
The Original Kitchen - 13' 9" x 9' 0" with a quarry tiled floor and fitted sink unit.
The following rooms lead off:-
Bathroom - having a fitted bath, w. c., and wash basin.
Utility room - 11' 0" x 8' 0"
The First Floor

Galleried Landing - with Shower room, and w. c. off.

Letting Flat 1 at the Front - 20' 0" x 17' 0" with bay window, kitchenette, and w. c. off.

Letting Flat 2 at the Side - 16' 0" x 12' 3 "(maximum) with bay window.

Bathroom - Containing fitted panelled bath with tiled area, hand wash basin, and w. c.

Letting Flat 3 at the Rear - 11' 3" x 10' 3"

Letting Flat 4 at the Rear - 13' 6" x 9' 6".
The Second Floor
Letting Flat 5 - 15' 0" x 13' 6"plus kitchenette and bathroom.
General Information
Services - all mains services are connected to the property. There is a phone box inside.

Tenure - with vacant possession

. Fixtures & Fittings - Only those items mentioned in these particulars are included in this sale, whatever has been excluded could be made available by negotiation.
---
Click on these words to go BACK to the TOP of the PREVIOUS page

Click on these words to go BACK to the FRONT page

Click on these words to go BACK to the TOP of THIS page